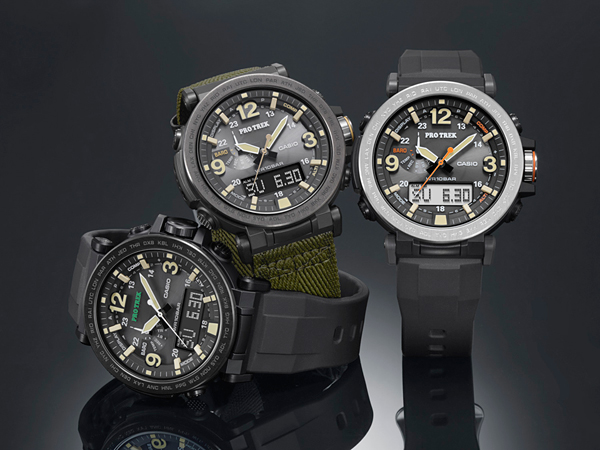 Tokyo, September 30, 2016 — Casio Computer Co., Ltd., announced today the release of three new models in its PRO TREK line of outdoor watches. The new PRG-600Y, PRG-600YB, and PRG-600 combine useful functionality for the outdoors with stylish looks for casual use.
The PRO TREK series of outdoor watches leverages Casio sensor technology to measure different types of outdoor data including compass bearing, atmospheric pressure/altitude, and temperature readings. In 2013, Casio developed Triple Sensor Ver. 3 technology, realizing even better accuracy in a smaller sensor size. PRO TREK watches are appreciated by people who enjoy serious mountaineering as well as trekking, camping, and other outdoor activities.
The new PRG-600Y, PRG-600YB, and PRG-600 all incorporate Triple Sensor Ver. 3 technology and the Casio Tough Solar power system for a great combination of advanced functionality with stylish looks for users who enjoy the outdoors.
The watches feature three-dimensional index marks and broad hour and minute hands for optimum visibility, with large numerals at the 12, 3, and 9 o'clock positions. The safari-inspired styling with earth colors and the oversized stainless steel bezel look great with casual wear and are accessible for everyday use. Offered in three variations, the PRG-600 and PRG-600Y feature a soft silicone band called Dura Soft, while the PRG-600YB features a cloth band made from nylon. Both styles are easy to wear and feel comfortable on the wrist.
| Model | Bezel Color | Band Color | Band Material |
| --- | --- | --- | --- |
| PRG-600 | Silver | Black | Silicon |
| PRG-600Y | Black | Black | Silicon |
| PRG-600YB | Gray | Khaki | Nylon |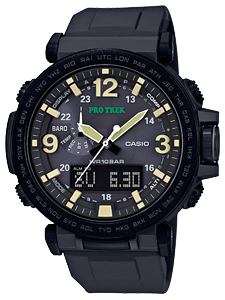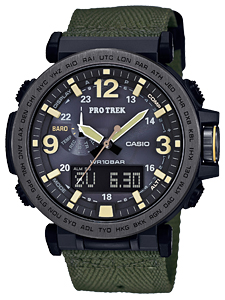 Specifications
Performance
Low-temperature resistance (-10°C/14°F), 100-meter water resistance
Digital Compass
Measures and displays direction as one of 16 points with the second hand; measuring range: 0° to 359°; measuring unit: 1°; 60 seconds continuous measurement; bidirectional calibration and magnetic declination correction
Barometer
Measuring range: 260 hPa to 1,100 hPa (7.65 inHg to 32.45 inHg); measuring unit: 1 hPa (0.05 inHg); atmospheric pressure change indicator (±10 hPa); atmospheric pressure tendency graph (past 20 hours graph display); atmospheric pressure tendency alarm (arrow indicates significant pressure changes)
Altimeter
Measuring range: -700 m to 10,000 m (-2,300 ft. to 32,800 ft.); measuring unit: 1 m (5 ft.); manual memory measurements (up to 30 records, each including altitude, date, time); auto log data (high/low altitudes, cumulative ascent and descent of particular treks); altitude change indicator (±100 m / ±1000 m); relative altitude readings (-3,000 m to 3,000 m); measurement interval setting

*

(every 5 seconds / every 2 minutes)

1 second for first 3 minutes only

Thermometer
Measuring range: -10°C to 60°C (14°F to 140°F); measuring unit: 0.1°C (0.2°F)
World Time
29 cities (29 time zones; daylight saving on/off, home city / world time city swapping) and Coordinated Universal Time, auto switching / standard time and Coordinated Universal Time
Stopwatch
1/100 second; measuring capacity: 24 hours; measuring modes: elapsed time, split time, 1st and 2nd place times
Countdown Timer
Measuring unit: 1 second (maximum 60 minutes)
Alarm
5 independent daily alarms; hourly time signal
Other Functions
Full auto-calendar; 12/24-hour format; battery level indicator; button operation tone on/off; full auto double LED backlight with afterglow: 1.5/3.0 seconds; hand-concealment function (manual, auto: barometer/altimeter/thermometer function)
Power Source
Tough Solar™ power system (high-capacity solar-charging system)
Continuous Operation
About 25 months with the power-saving function

*

ON after full charge

Display shuts off after a certain period in a dark location

Size of Case
51.6 × 51.5 × 13.4 mm
Total Weight
Approx. 78g (PRG-600/PRG-600Y)
Approx. 67g (PRG-600YB)