TOKYO, October 12, 2016 — Casio Computer Co., Ltd., announced today the release of the latest addition to its line of SHEEN watches, which are based on the concept of "Elegant, Smart, Shining." The design of the SHE-3050SG is totally focused on elegance.
Casio launched the SHEEN line of metal analog watches for women who shine in 1999. The shine that inspired the SHEEN name has been highlighted by incorporating Swarovski® Crystals into the watches. The SHEEN brand has earned a wide following among women, thanks to its variety of features and models that suit modern lifestyles, including a water resistance feature for ease of use, a model that comes with scratch-resistant Sapphire Crystal glass, and a model that incorporates radio wave time calibration.
The new SHE-3050SG offers a simple design with elegant highlights throughout, including an elegant Pink Gold color theme that is paired with a wide bezel and round watch case for a great look on any woman's wrist. The center of the face is embossed with a design inspired by the dahlia flower, with a simple inset dial as a date indicator at the three o'clock position. The distinctive hour and minute hands feature flowing lines reminiscent of a Christmas ornament, and the index marks and hands feature a deep blue finish for a contemporary look. Each index mark is crowned with a blue Swarovski® Crystal to give the dial face added brilliance. With its beautifully elegant looks, the SHE-3050SG is sure to leave a lasting impression.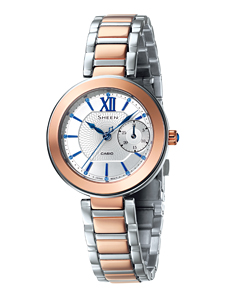 Specifications
| | |
| --- | --- |
| Water Resistance | 50 meters |
| Other Function | Date indicator |
| Accuracy at Normal Temperature | ±20 seconds per month |
| Battery Life | Approx. 3 years on SR621SW |
| Size of Case | 37.5 × 32.0 × 8.2 mm |
| Total Weight | Approx. 78g |