25th Anniversary fourth release - Master Blue
The blue higlights of these models make them fitting tributes to celebrate the 25th birthday of the G-SHOCK. The black of the face combines with the blue of the glass and face printing, and of the LCD for a design that befits sch a special occasion. The clear, colorless resin of the bezel and band first made its appearance on the G-SHOCK in 1991, as the DW-6000CJ-2, which marked important point in G-SHOCK history. This material highlights the desire to recapture the limitless potential unleashed by the G-SHOCK and renew efforts to make it the timepiece of choice the world over.
The back cover of each watch is engraved with a 25th anniversary logo.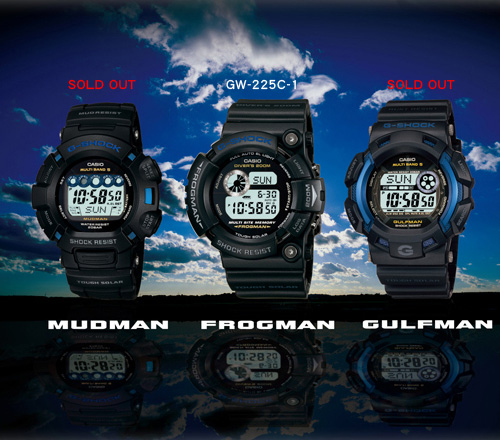 Preset Diving Points
Cayman
Calapgos
Creat Barrier Reef
Guam
Hawaii
Japan
Mauritius
Maldives
Red sea
Tahiti