This new official Triple Crown 2007 model is dedicated to the Triple Crown of surfing, three majoer surfing events that complete the season of the Association of Surfing Professional's (ASP) world tour each year.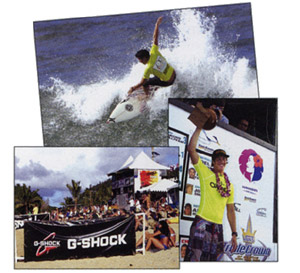 This year's model is based on the G-SHOCK GULFMAN, a watch that is renowned for its tough rust-resistant design.

Features that include Tide Graph, which is an essential tool for the modernsurfer, Dual Illuminator for easy viewing, and much more make this model truly deserving to represent the biggest surfing event of the world.
the watch is done in a metallic blue coloring to capture the radiant beauty of the ocean off of Hawaii. The band and back cover both sport the official Triple Crown logo.