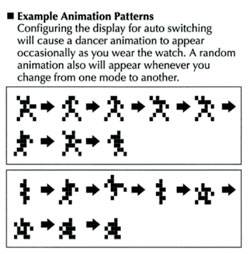 I live in CUTE CIRCLES.
Introducing ROUND SLIM, the new, eye-catching Baby-G with a distinctively large silver face.
Available in cool black or popular white, the ROUND SLIM models each sport a striking band that is the perfect match for the large face. The result is a wide design that makes this model an attractive fashion item, much like a wrist bangle. You can select one of five different display patterns for normal timekeeping.
Other feature include animated display figures that move whenever the watch is angled towards the eyes for viewing, plus other features that carry on the Baby-G tradition of fashionable fun.